My Choci Rose
Six long and lonely months have passed
Since you have gone away,
I'd like to share my thoughts with you
I have SO much to say.
I start to call you on the phone
As we had done before,
But then I stop and realize...
You're gone forevermore.
You left us very suddenly
One November afternoon,
There was no time to say Good-Bye
You left us much too soon.
I think about you every day
In your new home up above,
And everytime I think of you
My heart is filled with love.
Your home is now in Heaven
I know you're happy there,
I miss you so...more every day
Please know I'll always care.
Have you joined the Choir of Angels?
Are you singing every song?
I'm sure they gladly welcomed you
For that's where you belong.
Please Dear Lord, take care of her
I love her...oh so much!
She's a very special lady...
She'll always be my Choch!!
Ethel M. Sandstrom ©1994
Choci is the Polish word for Aunt
(rhymes with touchy)
Choci Rose was my Mother's sister, and as I was growing up, was
like my second Mom. She was always very dear to me and when my
own Mother passed, she and I became extremely close. She died
suddenly in November of '93. Her passing left a deep void in my life.
She was a devoted Christian woman, and enjoyed her time singing in
The Black Madonna Choir.
Rest Well my Beloved Choci.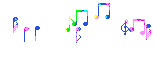 This Midi is: "The Rose"