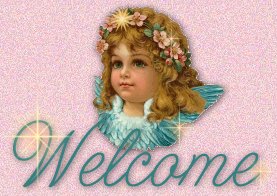 Angel Crafts

Angel crafts have taken over a large
part of my life. I have made hundreds
of Angels... of every type and style,...
and from every material. Mostly, I
give them out to friends, but I have
sold a huge amount. Local babies have
my Angels hanging over their beds... some
from NICU, where an "Angel's Touch" was much
needed. One grandmother even asked
for a third one... the first was buried with
her beloved grandaughter, the second hangs
over her second grandaughter's crib, and the
third... over her bed (to watch over her precious
grandaughter when she stays withGrandma! ) Ashlee's has been with her since day one!! Directions are as follows:

Guardian Angel
Cut a10 inch piece of center gathered lace. Pull both
sides, gathering the lace very tightly. Tie a knot, and
cut the string. Hot glue a pom-pom in the center of
the top gather. Add a pipe cleaner halo of silver or
gold. I use irridescent ribbon for the wings. Cut a 3in.
piece and twist it in the center for wings, cutting the edges at an angle. Hot glue in place on back of Angel. Add a small flower of your choice at front neckline. I use fishline for the hanger. Make a loop at the back of neck.And give
to your favorite little ANGEL!!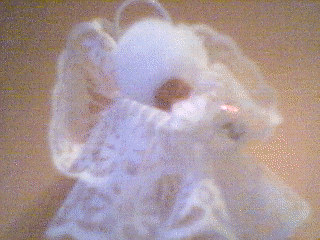 Angel Note Paper
Crumple a whole piece of colored or patterned tissue paper. Flatten it out with your hands, leaving in some
wrinkles. Cut a piece of freezer wrap the size of
the tissue paper. Using a hard surface...iron the tissue
paper onto the shiny side of the freezer wrap. (HINT) It is
best to lay the tissue (good side down) then lay the
freezer wrap (shiny side down) and iron on the back of
the freezer wrap. This way, you aren't ironing out all the wrinkles. Take an envelope of the size you want, and carefully open it all the way. Use this as a pattern for your envelopes by tracing it on the back of the freezerwrap. Cut it out and fold it as your original was, and glue. I use deco scissors to cut the top edge, giving it an added touch. Use computer paper to fold into a note to fit your envelope. Cut around 3 sides with deco scissors too.I decorate the front of the note paper with Angels, (of course, what else?) cut from scraps of the tissue paper. I use cookie cutters for a pattern or punches cut with the color of the envelope, and glued on white paper. Be sure to sign your note on the back... I include a blank address label and an Angel seal...is there any other??You can use your favorite image... birds, dogs, butterflies,flowers, to name a few. I have also used smooth construction paper for the notes. Then stamped Angels on front and embossed them in gold or silver. Beautiful!!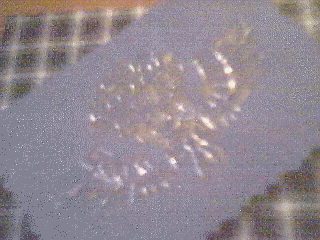 Angel Ornaments
These are made with linter paper or paper towels. I tear either into small pieces and put in an old blender, with a little stabilizer and water. Blend a few seconds until the paper is dissolved. Then pour into a strainer over a bowl...(to catch the excess water.) Any mold may be used. I use Angel candy molds or Angel soap molds. Press the paper into the mold and use a sponge to blot the excess water out. Then invert on a flat surface and let dry. These ornaments may be painted after they're dry, or left unpainted...your choice. I used thin gold wire for the hangar, hot glued to the back. I made Angel ornaments with stars attached with gold ric-rac, as gifts the first year after Melissa died. I made every family one with each star representing a family member. (Dad, Mom, Michelle),(Gram, Gramp), (Nan, Pap), all the Aunt, Uncles, and Cousins, who missed her so much. I even made them for the Doctor and his staff, who so lovingly attended her... her Pharmacist and his staff, who cared deeply for her...and her closest friends. Now, 5 years later...her Angel still hangs in the Doctor's office...proudly displayed!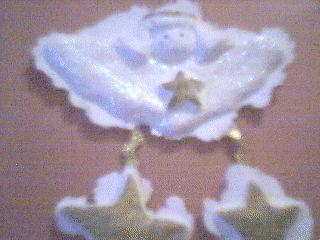 Lace Angels
I use flat lace, (lace with no gathers). This can be any
width...the wider, the larger the Angel will be. The
narrower...the tinier the Angel. Cut a piece about 6
inches in length. Accordian fold this piece and put a dab
of hot glue in the top of the fold. Hold for a moment
til it sets. Then add a white pom-pom for the head,
using the hot glue too. I then cut a 3 inch piece of ribbon...your choice. I have used irredescent, silver,
or gold. Fold it in half and cut the open end on an
angle. Twist it til both long points are pointing up,
and hot glue it to the back of the lace. I use a 2 inch
piece of very narrow ribbon (color coded to the lace),
and make a loop and glue to the back of the Angel,
for a hanger. Cut a piece of pipe cleaner...gold, silver,
etc...twist it into a small circle and glue to the top of the pom-pom for a halo. Glue a tiny rose bud or bow
to the neck area, and your Angel is ready to fly!!!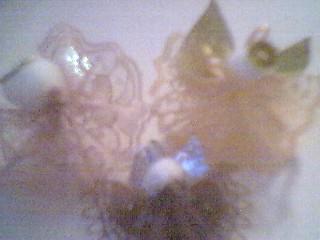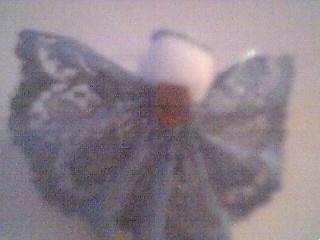 Angel Potpourri Sacks
Cut a piece of muslin 6 inches by 16 inches. Fold it
in half to make a sack 6 inches by 8 inches. Sew both
sides to make a sack. Use pinking shears to cut the
top edge. Slip a piece of cardboard inside the bag
and stamp an Angel, (or other design) on the front half
way down. I used gold paint and an Angel stamp...of course! Fill with potpourri of your choice, and tie with raffia, ribbon, etc. I give these as gifts to friends
all throughout the year.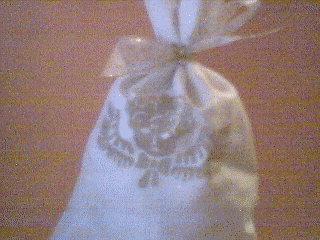 Hershey Kiss Angels
Since Hershey kisses are my 'favorite' chocolates...and Angels are my
'favorite' craft...I combined the two to make another Angel! I use the
smallest wooden head (either prestamped with a face or draw my own).
I hot glue this to the wrapped Hershey kiss at the top. I make
a loop for the hanger and glue to the back of the kiss, then glue
premade wings or make my own with ribbon as in the above Angel.
Glue a bow or small rose to the neckline, and make a halo from silver
beads and glue to the top of the head. This completes an adorable
Angel to enjoy....by hanging on your tree, sitting on your table, or
(Heaven forbid), satisfying your 'chocolate attack'.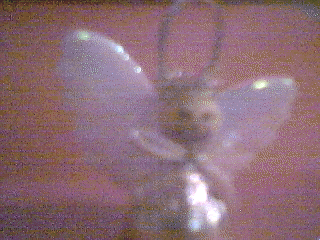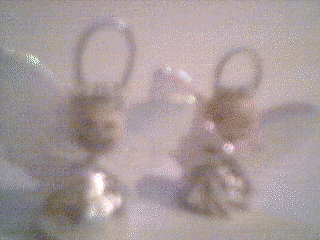 Updated October 13, 2004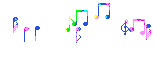 This Midi is "Just the Way You Are"