My Angel Daughter

A mother carries her babe
Just beneath her heart,
For whatever length of time
This baby is a large part.
For a mother's love begins
From the moment that she learns,
This child is growing deep within
And for motherhood she yearns.
I knew my babe was a girl
From the very first moment on,
I wanted her so desperately
To grow up with my 3 sons.
If she had lived
I'd have given her all my love,
My beautiful baby daughter
Who was born to Heaven above.
But since she went to Heaven
So many years ago,
I've missed being her mother...
My darling, Mary Jo!
Written with love,
in honor of
Mary Jo's 40th Heaven Date
Copyrightę 2002 Ethel M. Sandstrom
This beautiful gift was made with so much love by
Juli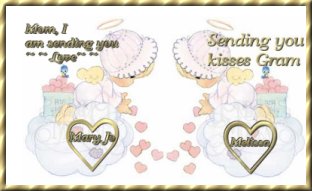 My two Angels in Heaven
I Love you Both...SO much!!